Imagine a world where good food is not wasted and people don't go hungry
Every dollar you donate to OzHarvest is so meaningful. It allows us to save good food from going to landfill and deliver two meals to Aussies who are doing it tough.
Providing a meal for someone going hungry is much more than filling an empty belly. It provides dignity, nourishment, care, connection and love when most needed.
We've come a long way
Thanks to the generosity of people like you, OzHarvest has been able to deliver nutritious meals to millions of Aussies in need and has saved over 32,000 tonnes of food from going to landfill.
BUT THERE'S MUCH MORE TO DO
Food insecurity in Australia is on the rise, and over 250 charities helping to feed thousands of Aussies who are hungry every day are still on the waiting list to receive food from OzHarvest. Please help us feed them.
YOUR DONATION CHANGES LIVES
Every dollar you donate provides two nourishing meals to people in need and saves good food from going to landfill. Join us in the fight against hunger and food waste - make a donation today.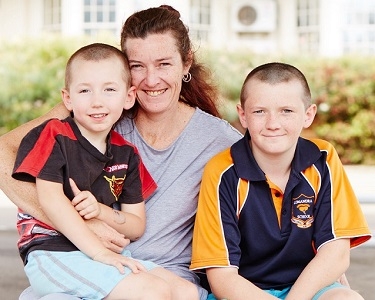 "Getting food from OzHarvest is a life-saver. It means I can buy what else we need with the little money we have left after paying bills."
Jenny, Parent at Lomandra School.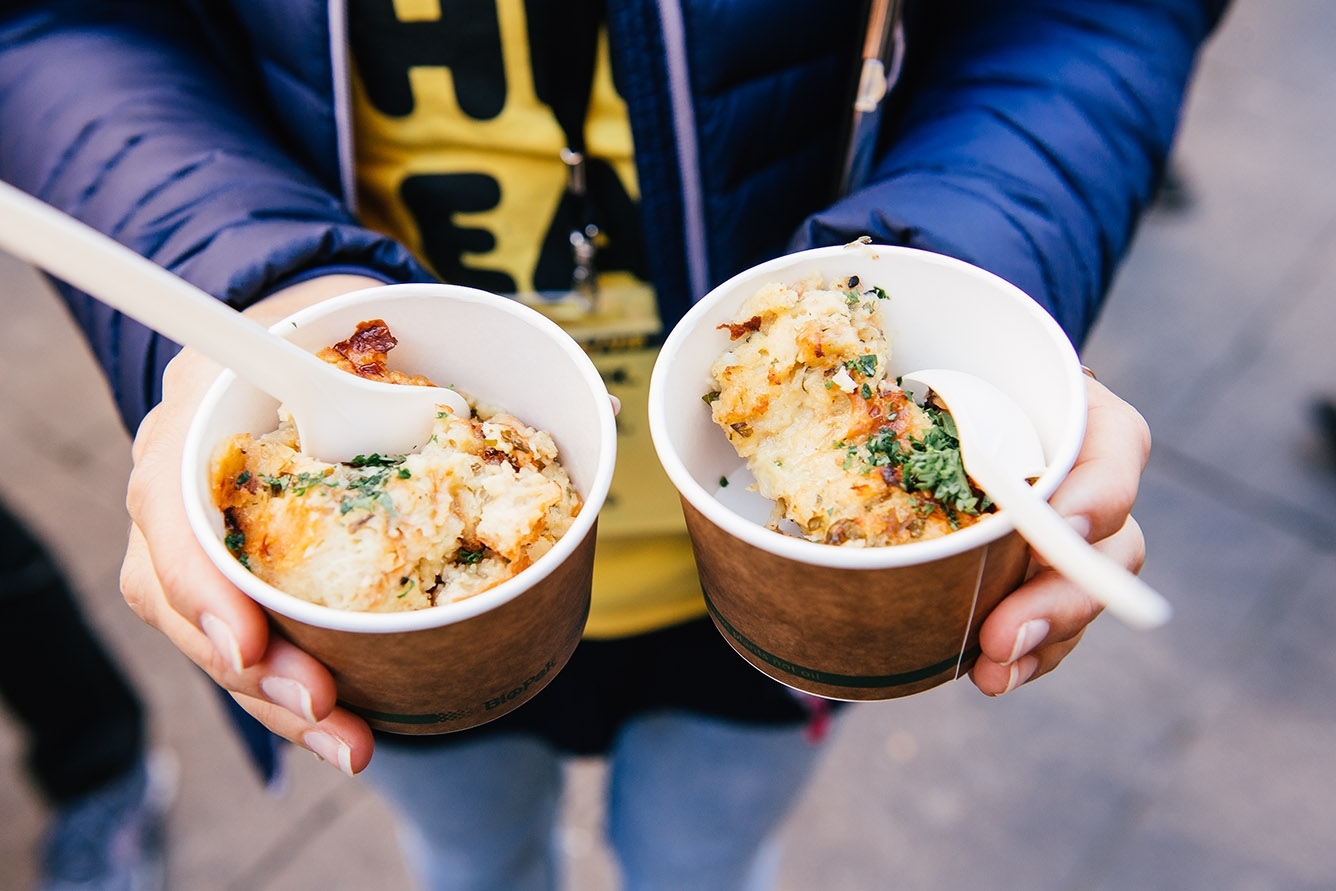 "If it wasn't for OzHarvest food, a lot of people would be going hungry."
Megan Jordan, OzHarvest Market Manager
OzHarvest is an Australian registered charity founded by Ronni Kahn in 2004. We rescue edible food from going to landfill and redistribute it to those in need. We also educate the next generation of Australians about food and sustainability and help vulnerable young people find employment in the hospitality sector.
How will my donation be used?
Every dollar you donate goes towards supporting our pillars to Rescue and Educate. We use every dollar donated to us as efficiently as possible. Thanks to leading global management consulting firm, Bain and Company, our Social Return on Investment (SROI) has been measured to show the true impact that every $1 donated to OzHarvest is making in the community:
Food Rescue returns $6.75 as charity agencies can redirect valuable funds from buying fresh, nutritious food to other essential services.
NEST (Eduate) returns $9.73 by increasing living skills and health/nutrition education and increasing community connectedness.
Nourish (Educate) returns $4.75 by enhancing life skills of vulnerable young people and providing pathways to employment.
Are donations to OzHarvest tax deductible?
Yes, OZ HARVEST LIMITED is endorsed as a Deductible Gift Recipient (DGR).
How else can I help with this appeal?
You can also support us by buying donation tokens next time you shop at Woolworths. The 50 cent tokens are available in stores across the country until 24 December. Each token purchased allows us to deliver a meal to someone in need.
A big thank you to our Donors
The real heroes who are kindly helping us achieve our goal
Sue Wright
Anne Leach
Lianne Cawood
Michael Lafave
Melanie Colling
Cecilia Barassi-rubio
Diane Black
Camilla Macpherson
Vicki Osmond
Kim Main
John Edwards
Jane James
Elizabeth Hawke
Anonymous
Anonymous
Melanie Deer
Luchien Eugene
Chris Field
David Duncan
Kim Pham
Giang Do
Alicia Swain
Marla Minow
Ashley Killeen
Sharon T
Gary Bortz
Pete De Bruyn
Anonymous
Vanessa Tang
Sasi Yarlagadda
Baldeep Singh
Bronwyn
Jimmy Barnes
John Jilderts
Anonymous
Ammy
Preeti
Daniel Lozina
Elizabeth Stringer
Charles Beck
Mark Dawkins
Helen Wood
Sandi Kellett
Anonymous
Anonymous
Anonymous
Anonymous
Sarah Smith
Hugh Mckay
Arif Gunal
Matthew Faiman
Anonymous
Phil K
Tania Burstin
Jason Mclean
Thelma Ryke
Sandra Bassin
Rosanna Paula Mercieca
Horacio Atencio
Gloria Harm
Tara
Anonymous
Michael Chester
Rhonda Bowler
Eva Cermak
Isabel Rios
Chris De Lorenzo
Isobel Mason
Ashley Ellyatt
Nicole Cannings
Pavel And Co
Gopi Krishnan
Anthony Moore
Julia Bohannan
Pilates Energetics
Sally Capel
Margaret Mcinerney
Wendy Michell
Jacqui Cook
Kate Durnford
Anonymous
Christine Kirby
Anonymous
Carolyn Moreno
Margaret Eden
Vincent Mccann
Rebecca Craythorn
Judit Hagen-foti
Emanoela Voltolini
Hanumani
Barbara Pank
Jeremy Dunham
Marica Baroni
Roxanne Hoad
Peter Jennings
Samuel Lawrence
Amanda James-murphy James-murphy
Andy Whyte
Anonymous
Trisha O'rourke
Shoeb Janoowalla
Hazel And Michel Kettler
Anonymous
Marilyn Dent
Anonymous
Lyn Dench
Anonymous
Anonymous
Robin Pardoe-bell
Gayle Doyle
Lynn Berry
Anonymous
Anonymous
Mary Wallman
Anonymous
Anonymous
Anonymous
Matilda Adiyody
Anonymous
Michelle Armbrust
Anonymous
Anthony Wild
Susan Gelber
Unisa City East Library
Glenn Cawthorne
Howard Family
Chris Brown
Michelle Little
Anonymous
Anonymous
Travis Chambers
Karen Lesley Wilkie Wilkie
Camilla Hayes
Charles Laczina
Anonymous
Anonymous
Ann Scriven
Fiona York
Diversified Communications Australia
Anonymous
Sam Mcaullay
Kyle Haynes
Julian Garrett
David Longman
Elizabeth Stringer
Meredith Osborne
Brian Dolan
Gary
Daniel Green
Kristine Barry
Margaret Fittock
Anonymous
Simone Evers
Elly Paxinos
Shirisha Gupta
Busnl Homeschool Group
Tom White
Anonymous
Chantelle Chow
Chantelle Chow
Woolworths
Woolworths
Anonymous
Anonymous
Levina Karnadi
Lee
Justene Knight
Rosemary Pollard
Anonymous
Christopher Haddad
Jason
Katherine Byrne
Meaghan Gilbert
Sofi Nipper
Anonymous
Energx
Anonymous
Anonymous
Anonymous
Jan Shaw
Craig Shaw
Anonymous
Anonymous
Jo Green
Anonymous
Sharon Templeton
Graham Williams
Sharon Templeton
Anonymous
Antje Lauterbach
Anonymous
Anonymous
Anonymous
Anonymous
Shannon Hayes
Matthew Fox
Alexandtia
Wendy Tonkin
Susan Knowles
Sue-ellen Smith
Jo-ann Poole
Christine Baker
Bruno & Rhonda
Julia
Anonymous
Ian Andrewartha
Stephen Serio
Anonymous
Col O.
Anonymous
Heather Mcintosh
Noya Elron
The Prospect Project
Jane Harper
Kristen Hawes
Anonymous
David Trussell
Luisa Heenan
Cathy Dang
Agnes Koutsioulis
Anonymous
Anonymous
Sylvia Raymond
Richard Kho
Julia Baird
Carlie Eden
Anonymous
Paul Pfitzner
Azadeh Maghsoodi Maghsoodi
Danielle Budden
Gartner
Mandy Hawkins
Anonymous
Woolworths
Woolworths
Michelle Ewbank
John Landos
Aitsl
Pamela Kaplin
Elizabeth Beardall
Tina Eade
Graeme Dargie
Angela F
Lia Pielli
Jasmine Christofilakis
Anonymous
Anonymous
Brigitte Mckenna
Rebecca Gualdi
Charlotte Bunker
Gerome Delosreyes
Cathy
Faye Welborn
Anonymous
Sandra
Anonymous
Ewa Walczuk
Andrew & Pippy
Laurel-lee Berrell
Vicki Smith
Jake Docen
Marnie Squires
Alexandra Walters
Steven Saint
Hilary Bates
Ignatia
Anonymous
Fiona Hansford
Debra Martin
Andrew Dunsmore
Anonymous
George Et Louis
Marie Crilley
Shevaun Bruun
Jenny Herbert-smoth
Nicholas Mattiske
Maddie Short
Ausgrid
Anonymous
Helen Gillman
Anonymous
Kyra Suarez
Gary And Wendy Webb
Anonymous
Mayfair International
Anonymous
Anonymous
James Small
Giuseppe Cossari
Anonymous
Anonymous
Glen Petersen
Jesse Nel
Anonymous
Will Stewart
Troy Scammell
Nadine Barnes
Shu Kwan
Eric Kitas
Anonymous
Tanya Stoianoff
Penny Ling
Omar Rodriguez
Karen Moore
Ondine Evans Evans
Anonymous
Angela Tydeman
Naomi Connolly
Stuart Howard
Emily Blessing
Jean Proctor
Stickup Industries - Louise Alexandrou
Anonymous
John Carberry
Christine Hall
Anonymous
Kylie Munnich
Kirsty Mootz
Freddie Wimpoles
Anais Freyri
Alison Kershaw
Naomi
Anonymous
Anna Paramita
Anonymous
Angie Cowen Love Life & Gluten Free
Scott Mclennan
Derrick Nugara
Geraldine Feneley
Anonymous
Katie Skinner
Imogen Thomas
Juliette Stead
Anonymous
Justine Kennedy
Jarrod King
Fiona And Peter Bunting
Anonymous
Helen Robertson
Andrew Stutchbury
Harriet Osborne
Talitha Friday
Ainslie School Staff
Pinky Neven
A Amy
Kevin Holloway
Bp
Henry And James Webster
Jules Seward
Louisa Kawiti
Auburn Christian Preschool
Maya Goundar
Helen Ward
Anonymous
Diagnostech Pty Ltd
Anonymous
Anonymous
Anonymous
Active Hand Therapy
Kathryn Tassell
Kristy Kelly
Anonymous
Anonymous
Felicia Jong
Jamie Simpson
Anonymous
Catherine Marshall
Nina Raymond
Anonymous
Simon Gruenewald
Anonymous
Wings And Tins
Lee Fishlock
Megan Carter
Krystal And Ben Warneron Behalf Of
Vivian Cassar-patty
Sofia
Anonymous
Anonymous
Emily Thomas
Gregor Mcgregor
Marg Croese
Anonymous
Anonymous
Heidi Piper
Lee Hawes
Claire Wright
From The Divine
Kora Uhlmann
Alison Kennedy
Nathan Kwok
Tara Archer
Sasha Stubbs
Randall Stewart
Kylie And Jason Payne
John Cole
Sarah Ferber
Jemima Yarnold
Anonymous
Alison Hayes
Anonymous
Danielle Mcconkey
Anonymous
Martin Rodgers
Anonymous
Jillian Friant
Jessie Mossman
Anonymous
Anonymous
Shaunak Joshi
Anonymous
Anthony Akle
Anonymous
Anonymous
Trina Jones
Serena Migliardi
Leigh Segboer
Khris Kringle
Anonymous
Amelia Beaumont
Lily Tiara Ella Middleton
Emma Ellis
My Lan Vu Vu
Clare Smith
Anonymous
Sara Bray
Anonymous
Karen Burford
Linda Smith
Anonymous
Harley, Ella, Elsie, Austin, Max And Deacon Boyd And Lisney
Fenn Gardner
Sam Dowling
Woolworths
Woolworths
Jenny Harben
Lachlan Harben
Skye Jacobi
Marcus Walker
Hui Ping Li
Jessica Williams
Emma Liyanarachchi
Anonymous
Linda
Annemarir Grahl
Queenie Chau
Lynette Wicks
Anonymous
Jane Wicks
Anonymous
Anonymous
Rachael Ottaway
Anonymous
Georgina Ogilvie
Yiik San Law
Anonymous
Felicity Hatton
Anonymous
Manning Francis
Anonymous
Kerry Little
Zena Lecky-thomson
Dianne Klingberg
Veronica
Nikki Romans
Tony Hodges
Tracey Mclelland
Anonymous
Nicole Johnson
Robbie Edwards
Jenny Neal
Anonymous
Gabriel Mustafa
Julie Mylchreest
Snack Fund
Chris Secomb