Imagine a world where good food is not wasted and people don't go hungry
Every dollar you donate to OzHarvest is so meaningful. It allows us to save good food from going to landfill and deliver two meals to Aussies who are doing it tough.
Providing a meal for someone going hungry is much more than filling an empty belly. It provides dignity, nourishment, care, connection and love when most needed.
We've come a long way
Thanks to the generosity of people like you, OzHarvest has been able to deliver nutritious meals to millions of Aussies in need and has saved over 32,000 tonnes of food from going to landfill.
BUT THERE'S MUCH MORE TO DO
Food insecurity in Australia is on the rise, and over 250 charities helping to feed thousands of Aussies who are hungry every day are still on the waiting list to receive food from OzHarvest. Please help us feed them.
YOUR DONATION CHANGES LIVES
Every dollar you donate provides two nourishing meals to people in need and saves good food from going to landfill. Join us in the fight against hunger and food waste - make a donation today.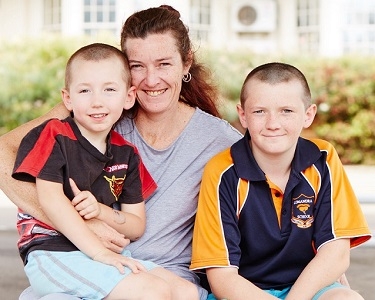 "Getting food from OzHarvest is a life-saver. It means I can buy what else we need with the little money we have left after paying bills."
Jenny, Parent at Lomandra School.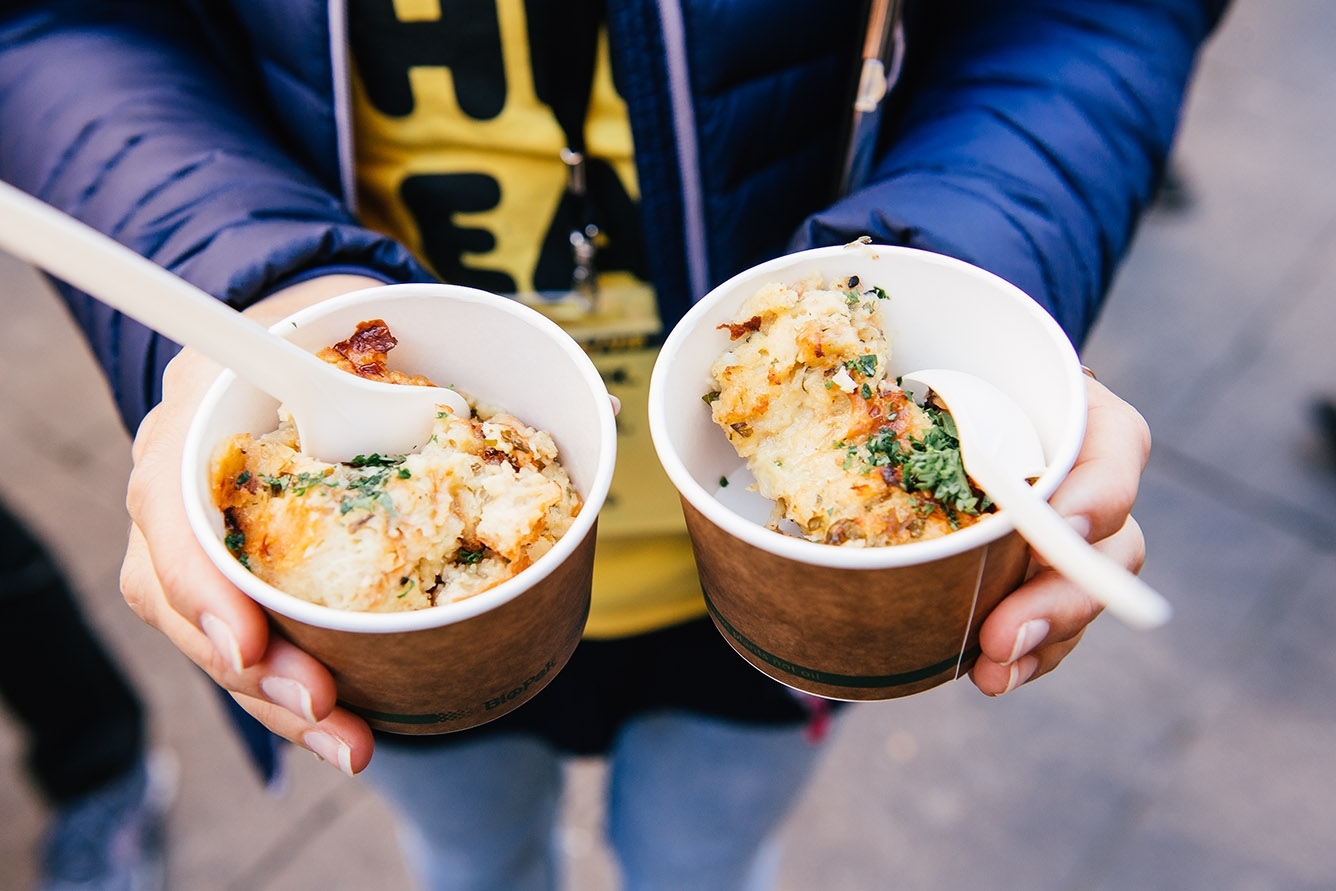 "If it wasn't for OzHarvest food, a lot of people would be going hungry."
Megan Jordan, OzHarvest Market Manager
OzHarvest is an Australian registered charity founded by Ronni Kahn in 2004. We rescue edible food from going to landfill and redistribute it to those in need. We also educate the next generation of Australians about food and sustainability and help vulnerable young people find employment in the hospitality sector.
How will my donation be used?
Every dollar you donate goes towards supporting our pillars to Rescue and Educate. We use every dollar donated to us as efficiently as possible. Thanks to leading global management consulting firm, Bain and Company, our Social Return on Investment (SROI) has been measured to show the true impact that every $1 donated to OzHarvest is making in the community:
Food Rescue returns $6.75 as charity agencies can redirect valuable funds from buying fresh, nutritious food to other essential services.
NEST (Eduate) returns $9.73 by increasing living skills and health/nutrition education and increasing community connectedness.
Nourish (Educate) returns $4.75 by enhancing life skills of vulnerable young people and providing pathways to employment.
Are donations to OzHarvest tax deductible?
Yes, OZ HARVEST LIMITED is endorsed as a Deductible Gift Recipient (DGR).
How else can I help with this appeal?
You can also support us by buying donation tokens next time you shop at Woolworths. The 50 cent tokens are available in stores across the country until 24 December. Each token purchased allows us to deliver a meal to someone in need.
A big thank you to our Donors
The real heroes who are kindly helping us achieve our goal
Anne Leach
Love your work!
Michael Lafave
Boundless appreciation for your work! Merry Christmas, Michael and Jennifer
Cecilia Barassi-rubio
Thank you for doing such an important job in an amazing way!
Camilla Macpherson
Our children under 12 years would like to help behind the scenes to pack items or clean up or serve neals or help the helpers with a tea or coffee break and some cake with parental.supervision to those at Ozharvest who help those.that are currently homeless.
Kim Main
Thank you for all you do.
Anonymous
May the warmth and friendship of Christmas bring you hope and happy times
Chris Field
All the best for Christmas and the New Year from the Field family in Brisbane
Giang Do
Ray White In-Room Auction held Tuesday 13th November 2018
Marla Minow
Let's do this! #1millionmeals
Sharon T
Fantastic initiative
Vanessa Tang
Keep up the great work! It's nice to see all foods don't go to waste and helping the community but also the environment.
John Jilderts
To Jai and Lucas, You have fed 40 underprivileged people this Christmas. Love from Great Grandpa John.
Ammy
Hello my name is Ammy and I'm 11. Instead of presents for my birthday I asked my friends to bring a gold coin donation to my party. I chose Oz Harvest as one of my favourite charities. I listed to a podcast about Ronni Kahn and I think she is a remarkable person to think of all the people who didn't have enough food and start Oz Harvest. I'm very happy to have raised $32.70 for you. Thank you. Ammy
Preeti
With Love & Devotion
Mark Dawkins
Donation from The Powder Principle
Anonymous
I heard Ronni speak @ the Women in Payment Symposium. The work you do as organisation, is amazing! As a country we can be grateful and so proud to have people with your empathy and heart.
Hugh Mckay
To thank Peter H
Arif Gunal
Love your work! Wish you could allow more volunteers to joim you with your operations.
Rosanna Paula Mercieca
I hope this small contribution will help those at Christmas get a much needed lunch or dinner.
Gloria Harm
Thanks so much for the fantastic work you guys are doing. Gloria :)
Anthony Moore
Waste no more food !
Sally Capel
I used to be available as a volunteer, and loved being apart of the yellow army for so many reasons. Thank you for making all feel so valued. I shall be back one day! 😊
Christine Kirby
Merry Xmas to all hope this helps your great cause. You are a wonderful organisation one that I am confident in donating to.
Anonymous
Love everything you do - Nourishing and nurturing so many people Xxxx
Rebecca Craythorn
Great cause, and it's fantastic to stop the food waste
Barbara Pank
I'm always here to help people who really need it
Amanda James-murphy James-murphy
Andy Whyte
the best charity
Shoeb Janoowalla
This is a noble work towards humanity
Hazel And Michel Kettler
With love and best wishes on the occasion of the 70th birthday of our treasured friend, Phil.
Lynn Berry
Many thanks and many happy returns for the OzHarvest team and supporters.
Matilda Adiyody
Feeding the body , feeding the soul . Merry Christmas
Anthony Wild
I have never experienced real hunger but I imagine not knowing where your next meal is coming from is terrifying. I hope this helps.
Glenn Cawthorne
Thank you for what you do.
Karen Lesley Wilkie Wilkie
Camilla Hayes
Everyone deserves a good Christmas. Wishing all those who are vulnerable a safe and merry holiday season. Xo
Ann Scriven
Hello Ronni & The Amazing Crew of Oz Harvest! Thank you for All that you do every single day, especially this time of year. I hope that this helps to feed those who are in need. You are All such a blessing. Thank you!
Fiona York
You are a wonderful Organisation. Thank you. I saw the article on the orange juice machines this morning on the Today Show, Channel 9. I'll support you on this.
Diversified Communications Australia
Staff nominated Christmas donation
David Longman
Please have the receipt made out to Diversified Communications Australia Pty Ltd
Anonymous
May all your wonderful work go exactly where it is needed so that all those who need to can partake and enjoy the spirit of Christmas . . . . .
Busnl Homeschool Group
Our homeschool group had a Christmas Charity Bake-Off and raised $55 for OzHarvest Christmas Appeal. We feel happy to contribute in feeding families this Christmas.
Tom White
Great work OzHarvest - grateful for everything you do
Woolworths
This amount has been raised through Woolworths customers, in store this Christmas
Woolworths
This amount has been raised through Woolworths customers, in store this Christmas
Anonymous
You do such important work, Oz Harvest. Hope this helps for Xmas or wherever you need it.
Christopher Haddad
Good luck and God bless!
Katherine Byrne
Thank you so much for creating this amazing organisation. I hope you and you families have a wonderful Christmas.
Energx
Thanks for everything you do OzHarvest!
Anonymous
Ozharvest does great work for the community
Anonymous
Merry Christmas!
Sharon Templeton
Merry Christmas from those who have enough to those who need a hand up.
Sharon Templeton
I want to give more to people that are less fortunate then me.
Shannon Hayes
On behalf of Grade 4B at Wales Street Primary School in 2018, we are making this donation to help support those less fortunate than ourselves this Christmas.
Sue-ellen Smith
This donation is on behalf of my niece who requested I donate to Oz Harvest in lieu of a Christmas gift for her
Bruno & Rhonda
keep up the good work
Julia
Have a very Merry Christmas and a Happy and wonderful 2018! 🌲🤶🏻🎁🎉
Anonymous
I hear so much about this cause and the Founder 🙌😍😘
Luisa Heenan
Love your work ozharvest 💛
Cathy Dang
My best wishes to OZharvest team and all those who in need! Have a wonderful Christmas!
Agnes Koutsioulis
Thank you for helping to feed those Aussies in need.
Carlie Eden
Thank you so much for the opportunity to give and thank you for all that you do. Xo
Azadeh Maghsoodi Maghsoodi
Danielle Budden
sharing is caring x
Gartner
Charity donation on behalf of the attendees at Gartner Symposium/ ITxpo
Woolworths
This amount has been raised through Woolworths customers, in store this Christmas
Woolworths
This amount has been raised through Woolworths customers, in store this Christmas
Aitsl
Merry Christmas from our company AITSL. Money collected in a morning tea from our Corporate team
Elizabeth Beardall
We donate to a different charity every year and sit around on Christmas day with our family and talk about who we donate to and what that do.
Jasmine Christofilakis
Amazing!!! 😍😍♥️
Rebecca Gualdi
Thanks for all you do!!!!
Gerome Delosreyes
In loving memory of Christopher Wall
Faye Welborn
Happy Christmas to those who need a little love and nourishment from their community!
Sandra
My Mum and Dad asked for their present to be donated to a charity. Wishing you a Merry Christmas. Thanks for being the kind, caring and wonderful people you are!
Andrew & Pippy
Merry Christmas to all 🎄
Marnie Squires
Donation made in memory of Chris Wall x
Alexandra Walters
Christmas in our household we don't do presents but as we all like to indulge with food we always spend money on food rather than presents so that we can all sit together & enjoy. I wanted to make sure that someone else out there could enjoy the same over their christmas time.
Ignatia
Keep up the good work, and have a happy holidays and a safe and happy New Year.
Fiona Hansford
Merry Christmas
Andrew Dunsmore
Donation on behalf of Andrew. Who requested a donation to OzHarvest for his Christmas gift.
Marie Crilley
If we all gave a little, life would be easier for those in need.
Jenny Herbert-smoth
Such wonderful work people. Xx
Anonymous
Merry Christmas
Glen Petersen
Love the work OzHarvest do and happy to help in some small way.
Anonymous
SOYEE would like to do our bits in giving back to Society!!!
Will Stewart
Keep up the amazing work guys. Your efforts to help and support others is an example to us all. Lots of love, Will
Angela Tydeman
Merry Xmas Ampcontrol People Team - may we spread the festive cheer to people who need it this year X
Stickup Industries - Louise Alexandrou
"The meaning of life is to find your gift. The purpose of life is to give it away." ―Pablo Picasso
Kirsty Mootz
Thank you for all your hard work, activism and community engagement. It's my pleasure to make a donation 😉
Anais Freyri
Lots of love from the OC team <3
Alison Kershaw
Keep up the great work!
Angie Cowen Love Life & Gluten Free
Much love to you all 💕
Scott Mclennan
Dear OzHarvest Thanks for all the work you do for Australians who aren't so lucky. We are donating the money we would spend on Christmas presents to instead assist you with continuing your good work. I hope you all have a great Christmas and 2019 is a positive one for OzHarvest. Scott and Sarah
Geraldine Feneley
Happy Christmas
Juliette Stead
Happy Christmas from the team at Telaria!
Harriet Osborne
Dear Harriet Merry Christmas! Your gift will help those who are hungry! Love from Dad, Von and Tigger xxx
Pinky Neven
Great Job Ronni!
Auburn Christian Preschool
Maya Goundar
Thank you for all you do to ensure those in need don't go hungry and that we don't waste precious food!
Helen Ward
Thank you Ozharvest for supporting people with respect. Thanks for offering dignity and comfort. Blessings.
Diagnostech Pty Ltd
Each year, in lieu of Christmas cards, we donate to Australian charities. This year we elected to support your great organisation. Best wishes to all for a safe festive season.
Active Hand Therapy
Our kids are aiming for a meal a day for a year. This was a gift to give them a good start. #teachingthenextgeneration
Anonymous
Guys thank you for the amazing work you do 💕
Wings And Tins
I hope you guys have a Merry Christmas, love your work.
Krystal And Ben Warneron Behalf Of
On behalf of us and our son Tom .
Anonymous
Happy Christmas
Heidi Piper
Thank you for everything you do to help those in need!
Lee Hawes
Merry Christmas x
Claire Wright
Warmest wishes to everyone at Ozharvest!!
From The Divine
May you and yours be blessed this Christmas
Kora Uhlmann
Dear OzHarvest Team Keep up the great work and best of success throughout 2019. Sincerely, Kora Uhlmann
Nathan Kwok
Keep up the amazing work guys.
Randall Stewart
Merry Christmas to those in need.
Kylie And Jason Payne
Merry Christmas
John Cole
In memory of "David", who loved to help others. Love M&D
Jemima Yarnold
Merry Christmas.
Anonymous
Happy Christmas!
Martin Rodgers
if possible id like to donate this towards the running costs of your vans. This is from my 3 sons Angus ,Nick, Sam and my wife Liz. Instead of a present each they are happier knowing it is going to your vans.
Jessie Mossman
Merry Christmas xx
Anonymous
Great job you guys are doing! Keep it up
Trina Jones
Merry Christmas!!! May 2019 bring you hope and love.
Khris Kringle
HAPPY CHRISTMAS!
Lily Tiara Ella Middleton
Merry Christmas from Lily, Tiara and Ella. We are aged 11, 9 and 13 years. We gave up some of our Christmas presents to help feed the needy. Thank you for helping feed humanity. Love peace and joy to all.
Emma Ellis
Merry Christmas
Clare Smith
Sincerely hope that conditions improve for everyone soon, and that this Christmas, the love of family can ease the hardship, at least emotionally. xx
Anonymous
Merry Christmas :-)
Linda Smith
Wishing everyone a Merry Christmas from the Goodall Smith Family - Nelson NZ
Anonymous
Thank you all at OzHarvest for all the work that you do, and the hope that you bring to those in need. It is much appreciated.
Harley, Ella, Elsie, Austin, Max And Deacon Boyd And Lisney
Woolworths
This amount has been raised through Woolworths customers, in store this Christmas
Woolworths
This amount has been raised through Woolworths customers, in store this Christmas
Marcus Walker
Best wishes to the Oz Harvest team and thank you for your work. Christmas donation on behalf of Janet, Chicago USA
Linda
After a good year, we've had a lovely, if simple, meal, and I hope that everyone gets the same.
Anonymous
Christmas support
Anonymous
From our family to yours. May your Xmas be a brighter one because of what OzHarvest is doing.
Kerry Little
Thank you for continuing to help Australians have access to nourishing food and support - Shine on OzHarvest💕
Veronica
Helping each other is the start of living a peaceful, happy life.
Tony Hodges
A Christmas Donation from the whole Hodges clan.
Anonymous
Donation for a friend.
Snack Fund
We're so pleased our snacking could benefit others in need!