Challenge yourself, make a difference and help Nourish our Country.
Join an existing event, such as the City2Surf, Blackmores Sydney Running Festival, or create your own challenge.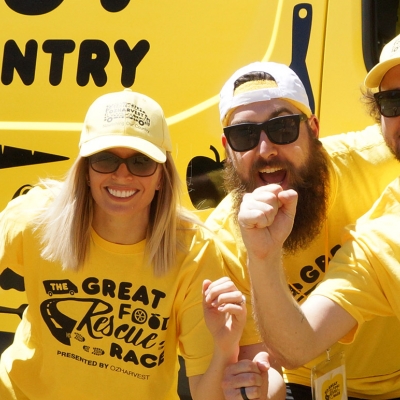 Don't want to start your own fundraiser? Join an existing event below and get active!


Brisbane Marathon 2022
Whether you plan on tackling the Brisbane Marathon, Half, 10km, 5km or 2km. Celebrate our 30th year in style on an ALL NEW course taking in the very best of Brisbane City from start to finish. Lace up, grab a friend and come and join thousands of others while also raising an incredible amount of money for OzHarvest.
Gold Coast Marathon 2022
The world class international marathon will attract participants of all ages and abilities from around the world across eight races including the Village Roadshow Theme Parks Gold Coast Marathon, CPL Wheelchair Marathon, ASICS Half Marathon, Southern Cross University 10km Run, CPL Wheelchair 10km, Gold Coast Airport 5km Fun Run, Health and Wellbeing Queensland 4km Junior Dash and Health and Wellbeing Queensland 2km Junior Dash.
Cairns Marathon Festival 2022
The Cairns Marathon Festival is a must-do destination event in Australia for all running and lifestyle event enthusiasts. Located in beautiful North Queensland participants will want to increase their stay to take in the beauty of the tropics. Event distances include the Marathon, Half Marathon, 10km, 5km and the 2km. Each road race will take in the best that Cairns has to offer.
Run Melbourne 2022
Run Melbourne is back bigger and better in 2022 with a brand-new home at Grand Slam Oval. With closed roads and a fast, flat course, more than 20,000 runners descend on the streets, heading past some of Melbourne's most famous landmarks. Cheer zones and epic vibes make this a race weekend unlike any other.
City2Surf 2022
Whether you walk, jog or run the famous 14km course from Hyde Park to Bondi Beach, City2Surf is all about hitting the streets and having fun with your family, friends and thousands of others while also raising an incredible amount of money for OzHarvest.
Bridge to Brisbane 2022
Bridge to Brisbane is an annual long-distance fun run over a distance of 10-kilometre or 5-kilometre held in Brisbane, Australia in August.
City to Bay Adelaide 2022
The annual City Bay Fun Run in Adelaide, South Australia is on Sunday, 18 September 2022. There are 12km, 6km and 3km fun run and walk events, and the 21.1km half marathon.
Sydney Running Festival 2022
Run one of the world's most scenic events! Run across the Sydney Harbour Bridge and finish at the Sydney Opera House. Join thousands of others while also raising an incredible amount of money for OzHarvest.
Melbourne Marathon Festival 2022
The Nike Melbourne Marathon Festival returns October 2nd, 2022. Join thousands of others and make a difference as you run, jog, wheel or walk your way through the city streets, passing iconic Melbourne landmarks before finishing with a lap of honour around the MCG's hallowed turf. Get a team together or take on the challenge solo and choose from 3km, 5km, 10km, 21.1km or 42.2km.